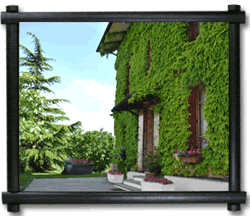 B&B La Vecchia Quercia is located in the quiet and relaxing green countryside of Parma, on route from Via Francigena, 5 minutes drive from the Highway A15 Parma - La Spezia.
B&B Vecchia Quercia is located near the town of Fornovo Taro, which rises on the hills.
Fornovo is a town located at the confluence of the Taro and Ceno Rivers, a connecting point between the plains and the sea.
At the centre of Fornovo is the most important monument, the church of St. Maria Assunta, obligatory stop for pilgrims in the Middle Ages. From here they would began the ascent to Mount Bardone then move to Rome. Also neraby, is Parma, an ancient city of transit and exchange, and the centre of many stories. Parma is rich in art, culture and host to many wonderful events such as the Verdi Festival and Cibus.
La Vecchia Quercia is located near the Wine Route for the province of Parma. Every year the town of Fornovo holds an autumn festival to celebrate wine and wine growers.
Only 10 minutes drive away is the Riccardo Paletti Varano Melegari racetrack.

Le strade dei Vini
e dei Sapori di Parma